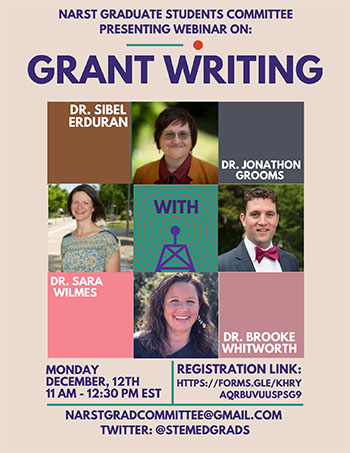 The NARST Graduate Student Committee is hosting a webinar on "Grant Writing".
This is an opportunity to discuss with Drs. Brooke Whitworth, Sara Wilmes, Jonathan Grooms, and Sibel Erduran to share their experiences on writing grants, as well as strategies that made those experiences better.  
Join us for the webinar on Monday, December 12, 2022, at 11 - 12:30 pm EST/ 4 - 5:30 pm BST/ 5-6:30 pm CET. Register at https://forms.gle/KhrYaqRbUVuUSpSG9.
The event is open to all graduate students. Therefore, NARST membership is not required.
Please spread the word and follow us on Twitter using the hashtag #NARST / #NARSTGrads / #STEMEdGrads.