In Memorium: Allan G. Harrison
In Memorium: Allan G. Harrison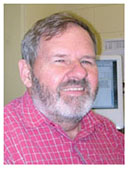 We report the very sad news that Allan Harrison passed away on Saturday 17 April 2021. Since 2004, Allan had suffered from Parkinson's disease which curtailed his very promising academic career when he was on the cusp of being considered for a Professorship in Science Education.
After teaching science in Years 8-12 for 23 years in a range of schools in Western Australia, including as head of science, Allan turned his interests to further his own education, enrolling in the Science and Mathematics Education Centre at Curtin University in a Master of Science (Science Education) degree which he completed in 1992 followed by a doctorate in 1997. Allan's research interests encompassed conceptual change and the role of models and analogies. Allan's doctorate was supervised by David Treagust at SMEC during a period of other outstanding research students including Grady Venville, Sue Stocklmayer, Rod Thiele and Richard Coll. Upon graduation, Allan accepted a position as Lecturer in Science Education at Central Queensland University in Rockhampton, Queensland where he was duly promoted to Senior Lecturer and Associate Professor. There he taught a range of classes and was a successful mentor and advisor to several masters and doctoral students. Starting with publications from his masters and doctoral theses, Allan published widely with many citations.
Allan's record of high academic accomplishments was recognised by the National Association for Research in Science Teaching (NARST) – the premier international organisation for science education research. This recognition includes the 2000 JRST Award (for best published paper in 1999 in the Journal for Research in Science Teaching), the 2001 NARST Award (for the best paper presented at the NARST 2001 annual meeting) and the NARST Early Career Research Award in 2002. In Treagust's 40+ years as an active member and former President of NARST he does not recall any other colleague who had received this level of academic recognition with the three different awards – and in consecutive years. Allan was a member of the NARST Academic Board – only the fourth Australian to be elected. Parallel with this international recognition has been his success as a recipient of two three-year grants from the Australian Research Council and membership of the editorial boards of the Journal for Research in Science Teaching and the International Journal of Science Education.
Allan was well-known to his colleagues and students for being articulate, well-organised, exceptionally well-read in the area of his research on aspects of student learning and related areas and an excellent collaborator. With a caring and amiable personality and being a conscientious worker who set himself very high standards, Allan was a pleasure to work with. We have missed him in our science education circles, as have many others, and we also wonder what might have been the fullness of his career if not for his illness.
Allan is survived by his wife Beth, and three children Danielle, Fiona and Nathaniel.
David F Treagust, Curtin University
Grady Venville, Australian National University