2023 Distinguished Contributions to Science Education Through Research Award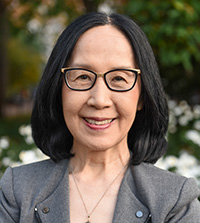 Dr. Okhee Lee was selected to receive the NARST 2023 Distinguished Contributions to Science Education through Research Award (DCRA). This is the highest award that NARST bestows upon its members, which recognizes the superior caliber of their professional accomplishments.
Dr. Okhee Lee has worked systematically over a long and sustained period in the domain of equity issues in science education. She has maintained a line of conceptual and empirical investigation into issues of support for both students and teachers regarding culture and language in science classrooms. Her progressive ideas have impacted justice-centered eduation among multilingual learners. Dr. Lee's seminal research have been widely reported in top-tier international journals both in science education as well as closely related fields. Her dedication to sharing her work with teachers is unique among educational researchers, as few researchers work so diligently to communicate with science teachers. Her body of work with NSTA has resulted in the NSTA Distinguished Service to Science Education Award.
Given the high impact of her rigorous and coherent research, international work with academics and graduate students, as well as service to leading journals, Dr. Lee is a most deserving recipient of the 2023 NARST Distinguished Contributions through Research Award.