2023 Early Career Research Award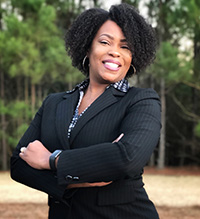 Dr. Natalie King was selected to receive the NARST 2023 Early Career Research Award (ECRA). This honor recognizes Dr. Natalie King's professional accomplishments as the most significant among other researchers nominated for the ECRA this year.
Dr. Natalie King has made significant contributions to science education by addressing issues related to racism, equity, and social justice through the lens of identity. She has brought together her experiences as a science teacher, scientist, activist, and science educator to establish a remarkable research agenda that advances students of color in STEM education and fosters equity in science teaching and learning through community-based programs and teacher diversity. Her research incorporates robust theoretical and methodological expertise and explores stories of STEM learning that are not told or heard. Her research-practice partnerships extend into both formal and informal sectors and reframe STEM as a mechanism to promote personal development, academic growth, and social justice. Her work has produced ground-breaking insights into supporting young people of color in science learning and inspired many scholars across the world. Dr. King has established herself as an independent scholar whose trajectory reflects a promising research agenda that is worthy of honor and recognition.