Director of Electronic Communications, July 2014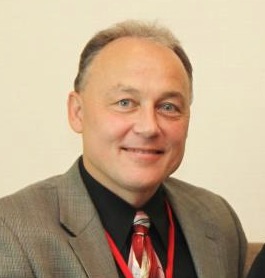 It has been almost a year since I was asked to be the Director of Electronic Communications for NARST and I wanted to reflect with the membership on some of the progress we have made in the past 11 months. Lynn, Bill, and I have worked closely with PODI to explore ways we can make incremental yet impactful steps toward producing an electronic thumbprint for our organization and we are please, but not yet satisfied, with our web presence. The NARST Board and particularly Presidents Lynn Bryan, Valarie Akerson, and Executive Secretary William Kyle have been driven to make long needed changes to the way the NARST community communicates and collaborates. Many suggestions have been collected from years of membership feedback and I am following the priorities of the Past, Current, and Incoming Presidential trio regarding a strategic course of actions and improvements.
Our Facebook page had been operating for approximately 10 months and has functioned as a supplement to the electronic listserv for announcements as well as posting updates of major calls, events and deadlines. It is our intention that announcements from the NARST website, the electronic list serve, and the Facebook page can all serve to help members keep in touch with upcoming announcements, deadlines, and resources for completing business like nominations for awards, proposals, and other major NARST events.  We have duplicated the events and announcements from the organization mailings in an attempt to build a lasting chronology of events and an easier way for members and visitors to share information with one another.  Our current NARST website requires login for every member which makes social networking and sharing outside the organization difficult.  We hope to use the Facebook venue more functionally as a means to network to other science education organizations and potentially policy statements, research statements, and member updates. In order to accomplish this members need to "Like" the Fan Page which can be found by typing "NARST.org" into the Facebook search simply entering the URL http://tinyurl.com/narstfacebook or simply clicking on this Facebook link. Anyone who "Likes" this NARST FB Fan Page can comment on posts or even add their own posts if there is interesting news to be shared with the membership. Currently more than 380 fans have done this but only a relatively few have posted comments. We believe as trust is built and more social media savvy members do this, the impact will only grow.
Videoconferencing has become a more regular part of NARST committee work as Chairs have shared a central account to set up multi-point meetings. This has allowed a more collaborative environment for completing committee work. NARST has supported committees to set up appointments for members, help train Chairs, and facilitate when necessary video, audio, text, and multimedia interfaces through a synchronous interactive environment rather than conducting business through email and Google Docs. Though this is a major step forward, it can be a challenge for international members who find the scheduling an issue with U.S. members. We are therefore in the beginning stages of launching a firewall protected online community which operates as support for committees in an asynchronous way. We hope that between these two resources it will be easier to collaborate, share ideas, make deadlines, and keep Board and Committee Members up-to-date and productive during busy times.
You may have noted from the Facebook Fan Page that there is now a NARST YouTube Channel where we have hosted the NARST Annual Conference Keynotes and some highlights. There is surely potential to the opening up this channel to the entire membership to submit videos central to the NARST mission. The Policy and Procedures Committee is taking up the issue of copyright and publishing permissions, forms, and other legal matters. While I took care of each of these details for the speakers at the Annual Conference because I was the one behind the lens, it is important for all authors to understand the rights and permissions of speakers before posting any content / media online.  Anyone who wants to post or share video to our YouTube channel must be able to legally demonstrate permissions from the content authors to publish.  It can surely be an impactful venue and we should think as an organization how we can best use it for passing our message to the general public.
Of course you have noted the difference in the eNNews format. We are trying to make it more interactive by putting it in this blog type of format and keeping a running set of active articles. For legal reasons we still haven't received the approval to host open comments which would greatly enhance the sharing and impact of the eNNews, but we will work this out. The first publication of this new eNNews actually garnered are biggest Facebook impact of more than 2000 "Likes." It can be a useful venue for sharing our news, vision, accomplishments and ideas.
Many attendees also downloaded the electronic publications of the Annual Conference Program this year. It was a demanding and intense process to go from a purely formatted PDF to ePub and iBook format and I learned a lot. I must thank Bill Kyle, PODI, and the President for putting together such an awesome program to work from.  I must also thank Ms. Kelsey Greene at UB who I paid to help me edit and complete it within the short deadline. I could not have done it in the 10 day timeframe without her help. Finally,  I must also thank everyone who tried it in its first version and the more than 400 attendees who replied to the survey within 48 hours to give their feedback. In case you were interested, I have shared below some of the responses. Most conference attendees (51%) still used the standard PDF format which has been compiled in the past by PODI while only 30% who responded to the survey regarding the electronic program actually tried the new iBook, while another 31% of the attendees used the enhanced PDF with active links. This was likely due to the extent of notification and the level of ease for downloading the electronic program. More than half (53%) of the attendees used their laptop to open and navigate the program while just over a third (34%) used their iPads. Other feedback included: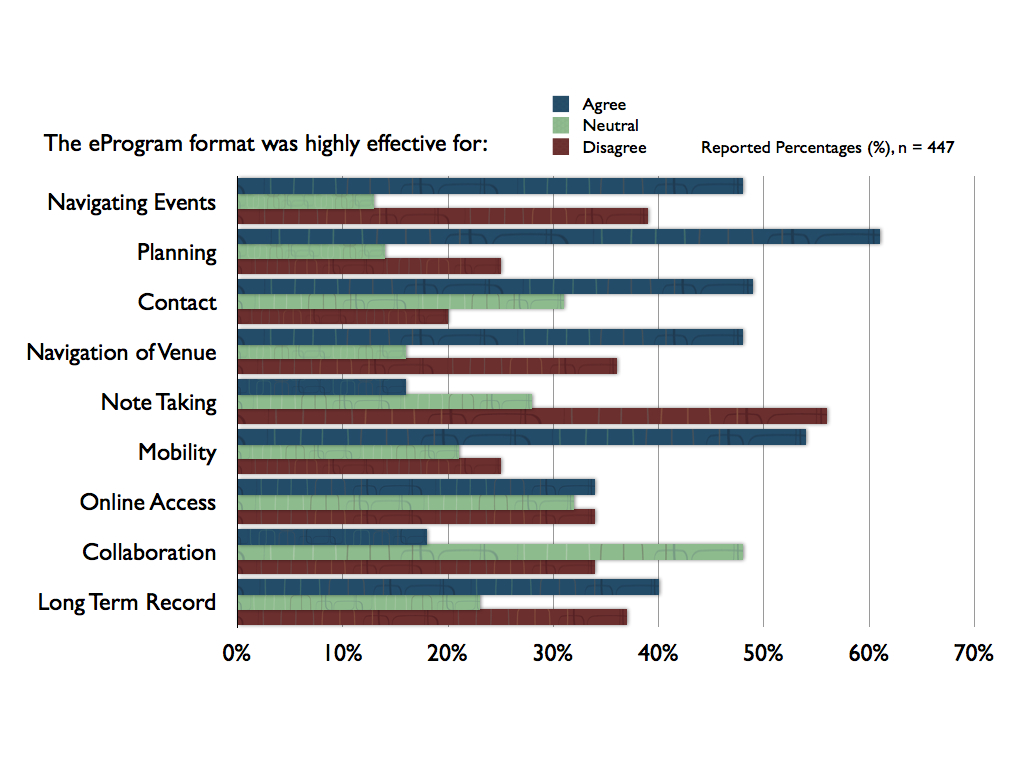 Overall, the membership generally reported "Pretty good. Keep trying." I appreciate the gracious response from the membership and attendees to the Annual Conference for our efforts. We are working to collaborate on file formats and lengthen the amount of time between the Final Program compilation and the first day of the Annual Conference for a better final e-product. Again, thanks to all who were involved in compiling the official program who did the larger job of organizing, compiling, and formatting the program for such a big and complicated event.
While the plan to overhaul the NARST web page is still in the works, quality web revision is a deliberately slow process and will be incremental to design tools into the site which meet the needs of the membership. Be assured it is a priority of the Board, but it is non-trivial. We are discussing options, functionality, and service to members from the general NARST.org site as we speak. We recognize that the NARST website cannot serve the all functions of the members, so developing other means to communicate in the meantime is a high priority (e.g., Listserve, Facebook).
Well, that's it so far. Though it may be seen as small changes so far, we hope that each of these become lasting parts of NARST Leadership's communication which together make a larger whole and overall a broader impact. The NARST Leadership Team is excited about upgrading our tools of communication and working towards a more open and collaborative environment. We value your feedback as well and hope you will participate in efforts to provide feedback and guidance that will direct our future efforts.
Sincerely,
Randy Yerrick
NARST, Director of Electronic Communications