Message From The President Elect, July 2014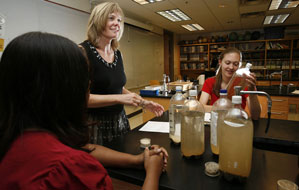 There are many things I enjoy about NARST, but one of the best things is being able to get involved in important work, and in doing so, getting to meet and work with colleagues from around the world! If you know me at all you know I am very sociable, and if you don't know me, I hope we will meet soon because I am sure we will get along well, and together do a lot of great work for science education! One of my newest tasks as President-Elect will be to recommend to the NARST Executive Board the appointment of new committee members—and I am very excited about the opportunities to work with so many NARST members in this capacity.
In fact, one of the ways I first got involved in NARST was to volunteer to work on a committee. It was a great experience to meet and work with colleagues toward goals we shared for NARST. NARST thrives on the work done by many volunteer members from around the world. The standing committees for NARST are Awards, Equity and Ethics, External Policy and Relations, International, Membership and Elections, Publications Advisory, and Research. Each standing committee has openings for NARST members to volunteer, from doctoral students to senior faculty! We have need in each committee, and I encourage you to volunteer and get involved in your organization! "So how do I volunteer?" you ask. There will soon be a link on the NARST website to enter your Committee Assignment Request, which asks you to include your contact information, a short blurb of your interest/qualifications, and a place to note your choice of committee preference. If you don't indicate a preference we will gratefully accept your services by placing you on a committee that has the greatest need for volunteers.
Certainly NARST will benefit from your expertise with committee work! Please volunteer to be a committee member and share your expertise with NARST! Please feel free to contact me with any questions regarding committee service at vakerson@indiana.edu. I look forward to working with you!
Valarie L. Akerson
President-Elect
Indiana University