Message from the Past-President, July 2015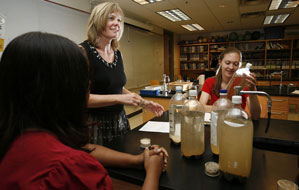 The 2015 Presidential Address
Good afternoon, NARST colleagues! I hope you have had a wonderful conference—I have enjoyed the presentations, networking, and talking with so many of you. This is a very different message than I imagined delivering this year…I think of it as sort of a "State of NARST" address. I am here to tell you about the interesting and intense year we have had in working on improving NARST.
There was a lot of heavy lifting this year, but not only by me, it was everyone on the board. If you think back to last year's conference you heard Past President Lynn Bryan speaking about minutia that were occupying the time of Board members, including the Presidential team. All those details limited the impact we hoped to make on science education.
The Board decided to follow-up on Lynn's comments in an effort to improve NARST. Now, of course we already know that NARST is pretty amazing—which is why so many of us claim it as our professional home. We are a thriving organization with a growing worldwide membership. We have a well-attended annual conference. We are financially healthy, and maintain low overhead expenses. We have an excellent and highly-ranked journal.
But what we don't do well is influence policy toward advancing our own mission to help all learners achieve scientific literacy. The Board decided to explore why we were not able to do more of the work we believed was important, and were instead busy with other tasks that are important, but time-consuming.
Let's be honest here—we are science education professors elected to serve on a Board of Directors. We presumed we'd be working toward influencing policy and advancing NARST's mission, but realistically, what we find is that we are now running a non-profit corporation. This means we need to pay attention to being in line with laws, by-laws, policies and procedures, and do all the things that non-profit corporations need to do. We have legal responsibilities that require confidentiality when managing NARST as a non-profit corporation and we have a legal obligation to be transparent regarding our finances and making the 990 (tax return) available for review.
Except we are science education professors who really aren't trained to run corporations, and attending to laws and bylaws, but who really want to actually advance NARST's mission (without breaking any laws along the way). NARST has been fortunate to have so many volunteers over the years working as board members. There are so many people who have worked hard, and to the best of their knowledge and abilities, to advance NARST. There have been many changes in the legal and regulatory environment governing nonprofit associations, and as we all know, NARST is a nonprofit association. Federal organizations, such as the IRS, have implemented new regulations for non-profit boards. The goals are to encourage transparency regarding financial statements, encourage accountability, the avoidance of conflicts of interest in making decisions, maintaining confidentiality and protecting whistleblowers who identify wrong-doing. Because of these new requirements NARST has we has begun adopting these required policies.
In addition to the federal government's interest in non-profits, The American Society of Association Executives (ASAE) also has developed a series of best practices recommendations for non-profit boards. BoardSource, the leading nonprofit specializing in developing indicators for governance practices, began publishing various reports on what constitutes good governance. From a review of their documents, it is apparent that a key requirement for a non-profit Board is first, to recognize that nonprofits are corporations, and second, as corporations they must follow the laws and regulations of the states in which they are incorporated and the state where they have offices as well as federal law and IRS regulations. Many boards for one reason or another may not have realized that they were responsible all along for these requirements, but the pressure to comply has increased, and the current Board can attest to that pressure.
The 2014 NARST Board realized that it needed to find out more. As a result the Board contacted BoardSource. They suggested a BoardSource Certified Governance Trainer and consultant from the Burton Group to conduct a training retreat for the Board. This retreat took place at our October 2014 Board meeting. During this retreat we explored our ideas about the roles and responsibilities of a Board. It became clear that we had pretty good understandings of what we should be doing, but we were hampered from doing them by several structural barriers.
Following the retreat the board realized that we still needed to know more, and asked the same consultant to conduct an organization audit by taking an in-depth look at our current practices, bylaws, policies and procedures. She made a series of recommendations for improvement. I now share some of the things we learned and what we are working toward. BoardSource and the American Society of Association Executives' research about the link between association performance and the Board is conclusive: the more a Board is able to focus on governance and not be involved in day-to-day operations, the more effective the association is at attaining its mission.
The three key roles of a Board are:
Establishing identity and direction. This includes the mission, vision, and strategic plan, as well as external relations with other key associations and stakeholders.
Ensuring the necessary resources. This refers to any resource that is needed for effective management of the association, including financial resources, human capital in the form of staff and volunteers, adequate technology, and effective networks with other organizations that support the mission.
Providing oversight. Oversight includes financial health, risk-management programs, legal compliance, and overall review of how committees and staff are running programs and services.
Nowhere in this list does it imply that the Board should be involved in the management and operations of the association. That level of involvement is to be handled by the Executive Director, independent contractors, or an Association Management Company (AMC), in our case Drohan Management Group. The Board should not be involved in the daily running of programs and services—except in the very early years of an association. We have learned that associations have "life cycles." The research on life cycles of associations shows that just as people go through stages in life, so do associations. Some association stay in early phases and never reach maturity; others reach maturity in a very few number of years and then may find that they need to "reinvent" themselves to start a new life cycle.
In the "infancy" of an association the founding Board often functions as a committee-of-the-whole, running one or more programs and services. Every Board member is involved in every decision, from the location of the conference to the color of the membership brochure and so on. This is often called an "operating board." As an association enters its "teenage" years, the Board is still an operating board but it begins to divide up the operational responsibilities by creating several committees. Typically Board members will serve both as the chairs and members of these committees. Some of these committees will be "program" committees to run specific programs, such as the conference, while other committees will have governance functions, such as nominations and elections.
When an association reaches its "young adult years," Boards typically begin to have other association members to serve on the "program" committees. This allows more participation of members and increases the pool of members who may be interested serving on the Board. At this stage, board members typically stay as the chairs of committees. This is the current structure that NARST has—with Board members serving as chairs of committees, while also trying to focus on the governance function as Board members. We are young adults
By the time the association is in its "middle adult" years, the Board will realize that the committee work is distracting them from larger strategic issues related to the mission. At this stage the Board will drop their roles as chairs of "program" committees and will appoint members to take on these important leadership roles. This is the stage that the NARST Board is exploring right now—moving toward members engaging in leadership roles as chairs of committees that we call "Standing Committees," enabling the Board to move toward a governance board.
Which leads us to thinking about when an association reaches maturity, the Board will focus on governance by creating special Board-level committees to increase Board performance and improved compliance with legal, ethical, and financial oversight responsibilities. Once this happens, the board can turn into a "governance board" where it will conduct oversight of programs and services but not be involved in the details of the operations. The board can focus on advancing the association's mission in the external environment and it can begin to influence key policies—in NARST's case, the board would work toward the three goals identified in its mission:
encouraging and supporting the application of diverse research methods and theoretical perspectives from multiple disciplines to the investigation of teaching and learning in science; 2) communicating science education research findings to researchers, practitioners, and policy makers; and 3) cooperating with other educational and scientific societies to influence educational policies.
The more Board members can focus on their key responsibilities (and delegate operations to staff and committees), the more the Board can analyze the current situation, find out about future trends that may negatively impact its members or the association itself, determine strategies to meet those future challenges, and ensure that the association will be able to continue with its mission.
I will now share some of the information uncovered by the internal audit we requested that I mentioned earlier.
The audit uncovered a number of problems.
The first problem was that NARST's current bylaws are not in compliance with Minnesota law where NARST is incorporated. NARST has a lawyer, C. Michael Deese, Esquire, who has been helping us sort through these problems. He specializes in non-profit corporations, and one of his particular strengths is bylaws. We found that Minnesota requires ALL associations to have an elected treasurer, and we do not, nor do we provide for such in our bylaws. The good news is that when we found out we were out of compliance, one of our current Board members, Greg Kelly, stepped up to volunteer to take on the role of Interim Treasurer, and I publicly thank him for volunteering in this role. He's been appointed to that position. The state of Minnesota recognizes this action as a good faith effort to correct our past non-compliance by instituting an appointed treasurer until we can have an elected treasurer.
Second, we learned NARST had lost our incorporation status in Minnesota  because we had not filed the appropriate paperwork in Minnesota to operate our corporation in Virginia (where the Drohan Management office is) when we moved our management to this office. The good news is in January 2015 the Board took action to ask DMG to file the paperwork.
Third, we found out that our electronic email voting policy was not in compliance with Minnesota law. We dropped it and instituted legal online Board meetings through GoToMeeting technology, enabling us to complete more work in between face to face Board meetings. We thank Randy Yerrick, Director of Electronic Services, for setting these up.
Fourth, another problem identified was the Bylaws requirement that all committees must be chaired by a Board member. This requirement necessarily stuck NARST in the "young adult years" of the association life cycle, as an operating Board because the Board members are required to chair committees, and spend time doing operating tasks, limiting the amount of time for governance and policy work. It also has the undesirable side-effect that provides tension to Board members as working to advance their committees while still trying to be advocates of NARST as a whole—this is a tension that exists in all operating boards.
Fifth, we learned that legal counsel had never reviewed NARST's bylaws . When NARST legal counsel saw the requirement about board members being required to chair committees, he was astounded and reported he had never seen such a requirement within bylaws. The BoardSource consultant however, had seen these structures in bylaws before, but said such requirements began to be taken out of association bylaws as early as the 1970s. In addition, legal counsel noticed that NARST bylaws were not in compliance with quorum and bylaws amendment processes that are in current Minnesota law, were missing some IRS required language, and were also missing many sections that protect the association and the volunteers from legal liability, and did not provide for the required elected treasurer position.
Bottom line:
Bylaws must be amended or NARST will continue to be out of compliance, leading to possible legal complications, fines, and the potential of losing our incorporation and tax-exempt status.
So we have spent much time revising our current bylaws, with the BoardSource consultant, and had our legal counsel make final edits, ensuring that it is in compliance with Minnesota law, and that it enables smooth functioning of the Board and of NARST.
We will be asking for your vote to approve these new by laws at the time you file your conference proposal in August. We chose this time so that you would only need to log in once—you can vote as well as upload your proposal. And no, the voting is not linked to whether your proposal is accepted or not! As you know, under the current bylaws we need a 50% majority vote of the membership to make revisions. However, in consultation with NARST's lawyer, I was told that because we are out of compliance with Minnesota law in many areas that the Board could (and should) take action to make the required changes if the membership decides not to vote. The Presidential Team discussed this matter, and rather than take action immediately, we believed that if we shared this information with the NARST membership openly and honestly, and asked for their vote, that the membership would come through with their duties to vote to approve the new bylaws. But we also agreed that if the membership did not vote, the Board would need to take action to amend the bylaws so we are not out of line with the law. Personally, I can think of a lot more fun ways to break the law than through having our bylaws be out of compliance. So we are asking you to please vote in August. And please vote yes! Let's do this! We will be providing more information regarding these changes through emails to the membership, posts on Facebook, and through ENARST news.
Why spend so much time on all of this? Again—we are science educators running a corporation. We want to continually improve doing the right things in the right ways.
I would also like to invite members to share ideas, questions, and thoughts with Board members regarding by laws and governance vs. operating Boards. The board sincerely seeks to improve NARST governance: we are not interested in governance just for governance sake, but because research on effective associations shows a link between effective governance and better operations supporting goals of associations we need to consider this move. We are really grateful for taking the step for the audit that not only identified areas where we had to change to become in line with legal requirements, but also identified ways we could change in order to help NARST move forward in terms of how it might be configured to better advance the mission as well as policy. Please talk with us, share with us your ideas, concerns, and questions. Please consider running for Board elections and volunteering for committees—we need hard-working members to help NARST improve and grow.
In closing, the current NARST Board has worked very hard this year, doing the work of their operating committees, as well as doing forward thinking toward not only bringing NARST in line with legal requirements, but also about ways to move NARST toward a more effective governance Board, that will help us to make impact on policy as well as better advance our own mission, while providing leadership opportunities to our members.
I greatly thank them for all the extra time, thought, and energy they have put into this work.
And remember—NARST is an amazing organization that has served its members and provided leadership in science education. We are not broken, we are only getting better.
I leave you this thought:   Keep Calm—we're just growing up!