Message from the Immediate Past President, July 2017
Ask Not What NARST Can Do for You, Ask What You Can Do For NARST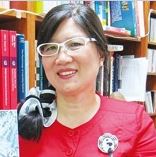 Wow, it has been an amazing year for me as the NARST President. Becoming the NARST President was definitely not something I was expecting when I first joined NARST about 27 years ago. I am thankful for the trust and belief that the NARST membership bestowed on me. I am truly grateful.
In the past year, I had the privilege of working with our dedicated board and committee members, as well as our strand coordinators, to serve our organization efficiently and effectively. In our attempts to reach our common goal, in the last year, we had two in-person Board meetings (in October and April). We also had 7 virtual Board meetings, and another 6 GoTo meetings on Executive business. As you may know, Board members come from different parts of the world (including Israel, Korea, the Netherlands, Taiwan, and USA). Some locations are 12-13 time zones away from the East Coast of the U.S. As a result, some of us would have to stay up until midnight to join the meeting, while others had to skip lunch or dinner because it was lunchtime or dinnertime in their cities. But with the trust and belief of our membership, Board members were determined to get things done, and not only get them done, but get them done right.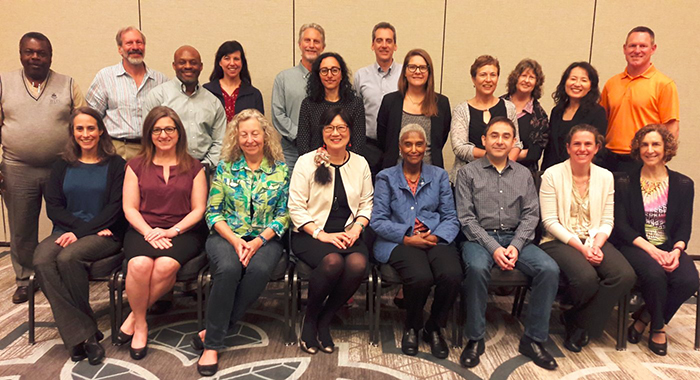 Below is some updated information about tasks completed in the past six months.
Annual International Conference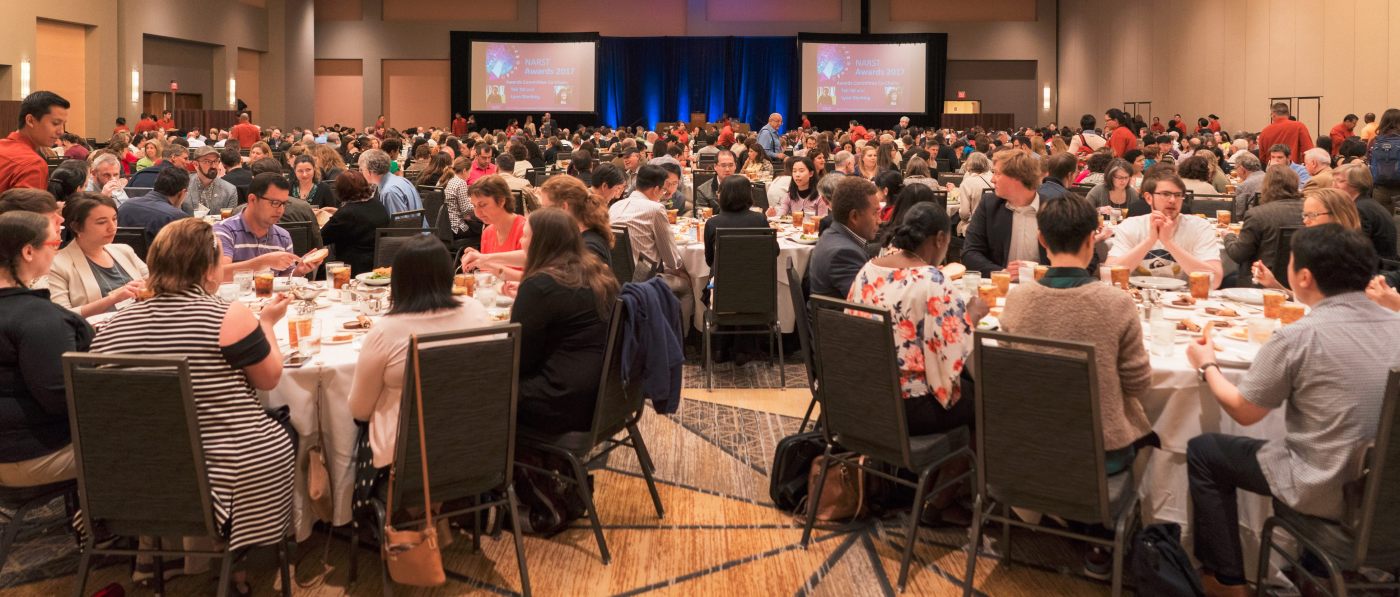 This year we had 906 submissions to the NARST Annual International Conference in San Antonio, of which 680 were accepted as papers and 165 as posters. There were also 34 symposia, 27 related paper sets, and 7 pre-conference workshops. Many thanks to the Presidential team; the Executive Director, Bill Kyle; the strand coordinator, Toni Sondergeld; the strand co-chairs; the reviewers; and DMG for helping out on the organization of the program.
Almost 1200 people attended the conference this year (total attendance, 1177): 847 participants from the USA, followed by 30 participants from Germany, 27 from Israel, 22 from Turkey, 18 from Canada, 17 from Taiwan, and the remaining from 28 other countries. I was especially pleased to see so many international scholars and students traveling vast distances from all over the world to attend our conference in San Antonio. As you know, our conference theme this year was Glocalization of Science Education. From the above statistics, in terms of geographic location, we met the first goal, bringing participants from global and local organizations.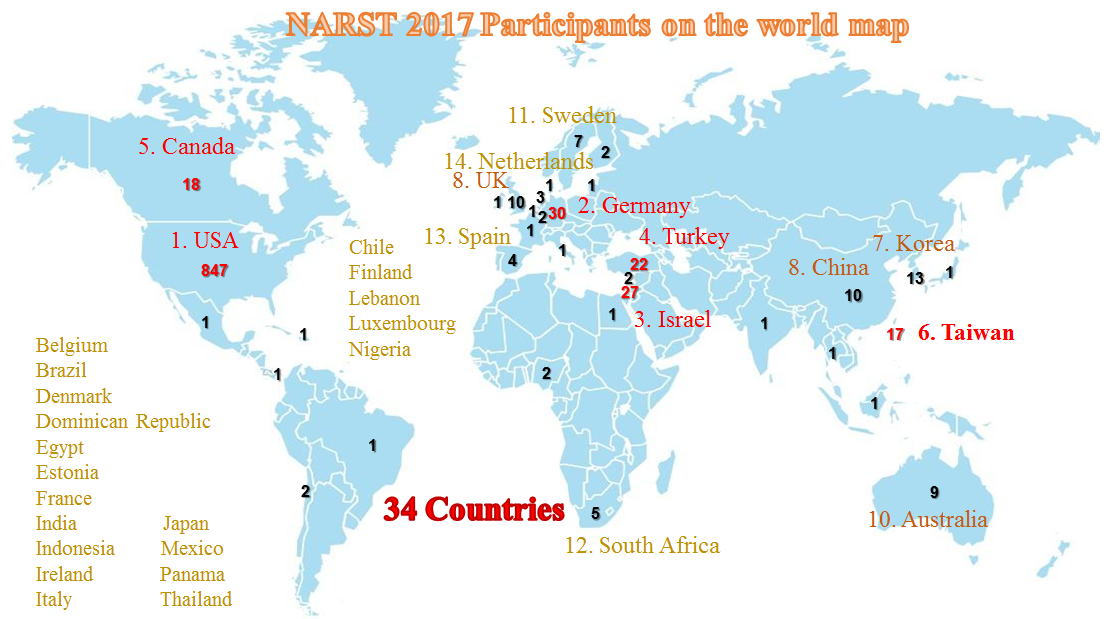 The conference featured two plenary sessions. Andreas Schleicher presented global data on students' scientific literacy from PISA. In particular, the talk focused on how we, as global researchers and citizens, can learn from strong performers on the PISA assessment or from countries that have successfully reformed their systems and improved their PISA performances. Michelene (Micki) Chi and Stella Vosniadou talked about ways to increase our students' understanding of science and enable students to make sense of scientific phenomena in their surroundings. These plenary sessions met the second goal, which was to bring a global perspective and try to meet individual needs at the local level.

Slides accompanying Plenary Sessions:
Edited and Rebroadcasted Plenary Sessions:
Twelve speakers were invited to discuss their international collaborative research and global and local issues in science education during two Presidential symposia. Participants discussed ways to collaborate with science educators from different countries to bring cultural, social, gender, and racial elements into our studies. The two discussants for these symposia provided profound comments on the future of science education based upon the presentations. In addition to these sessions, participants from 34 countries presented their research at the NARST 2017 Annual International Conference. Altogether, this meets the third goal of the conference and NARST's mission to communicate knowledge generated by research.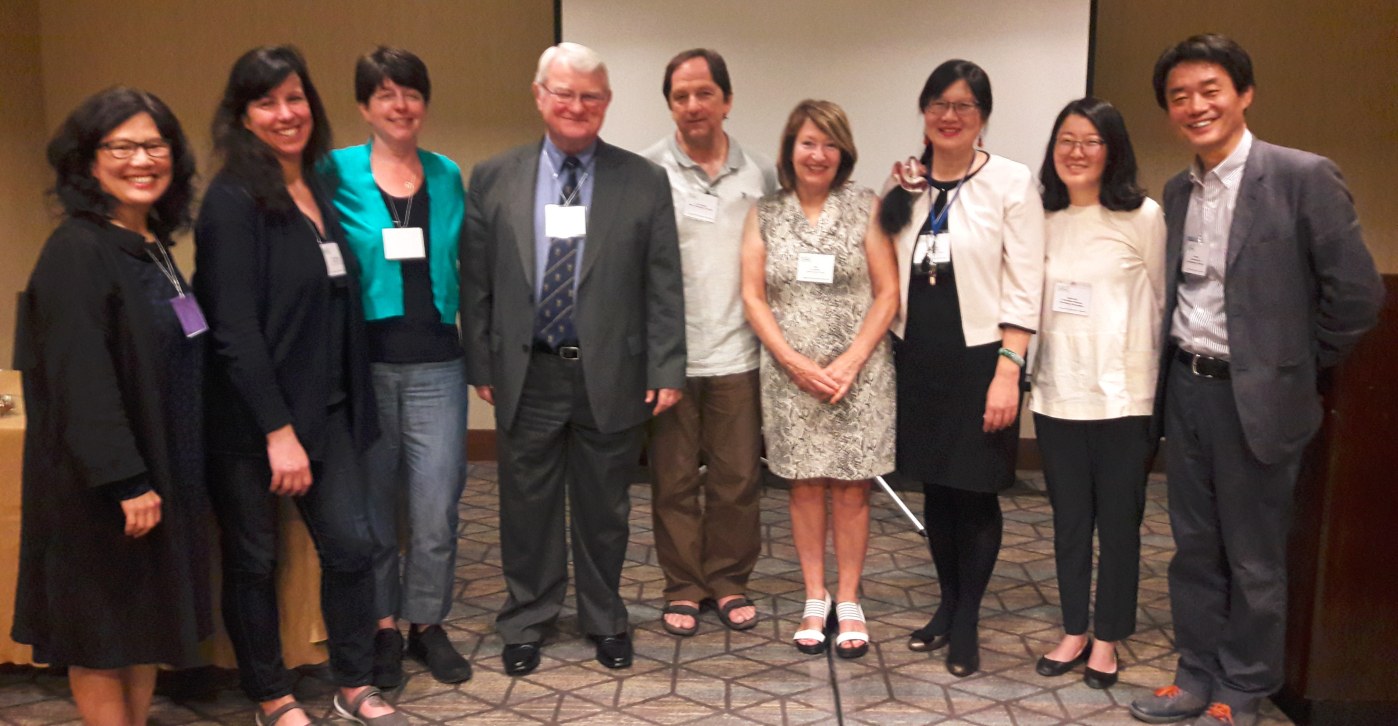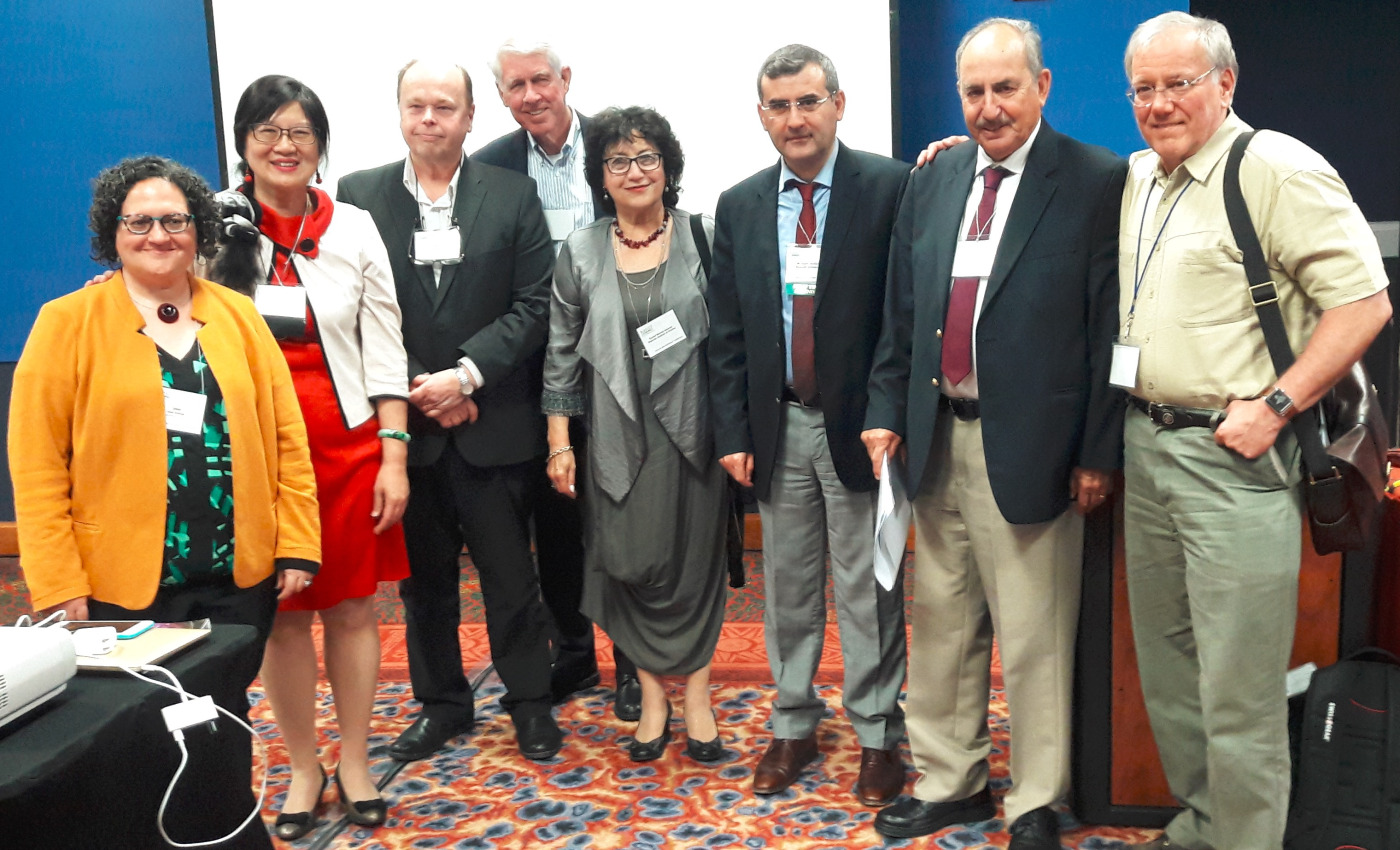 Presidential Breakfast
I, along with three NARST board members, hosted four presidents/representative of NARST-affiliated associations in a Presidential Breakfast on April 23, 2017. During the breakfast, several issues were raised to increase possibilities for collaboration among the associations, such as building regional networks, forming research interest groups on international collaboration, and providing fliers of affiliated organizations during the NARST annual conference.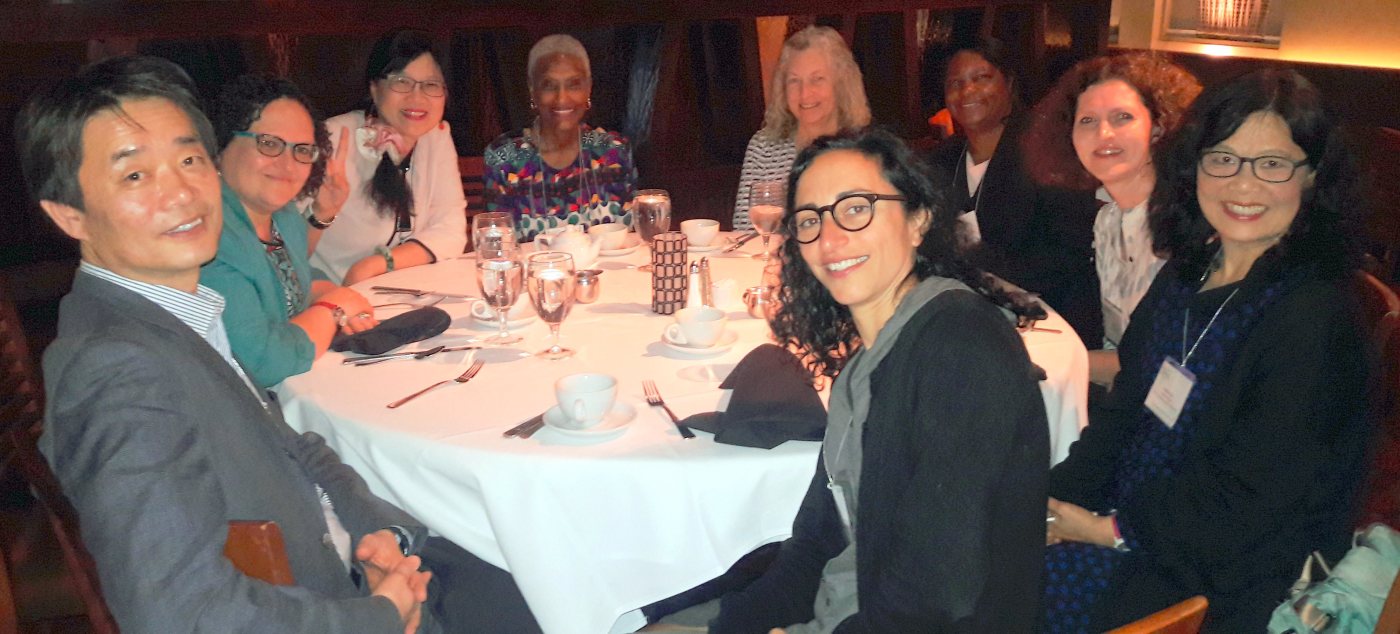 Organizational Structure
One of the tasks the President needed to accomplish this year was to re-structure the association from an operating to a governance organization, based on the membership-approved change to our Bylaws and the needs of the association. Working with our Committee members, we created several new committees to fulfill the requirements of the Bylaws and to move NARST towards a governance organization: Audit Committee, Election Committee, Executive Committee, Finance Committee, Governance Committee, Graduate Student Committee, Membership Committee, and Website Committee.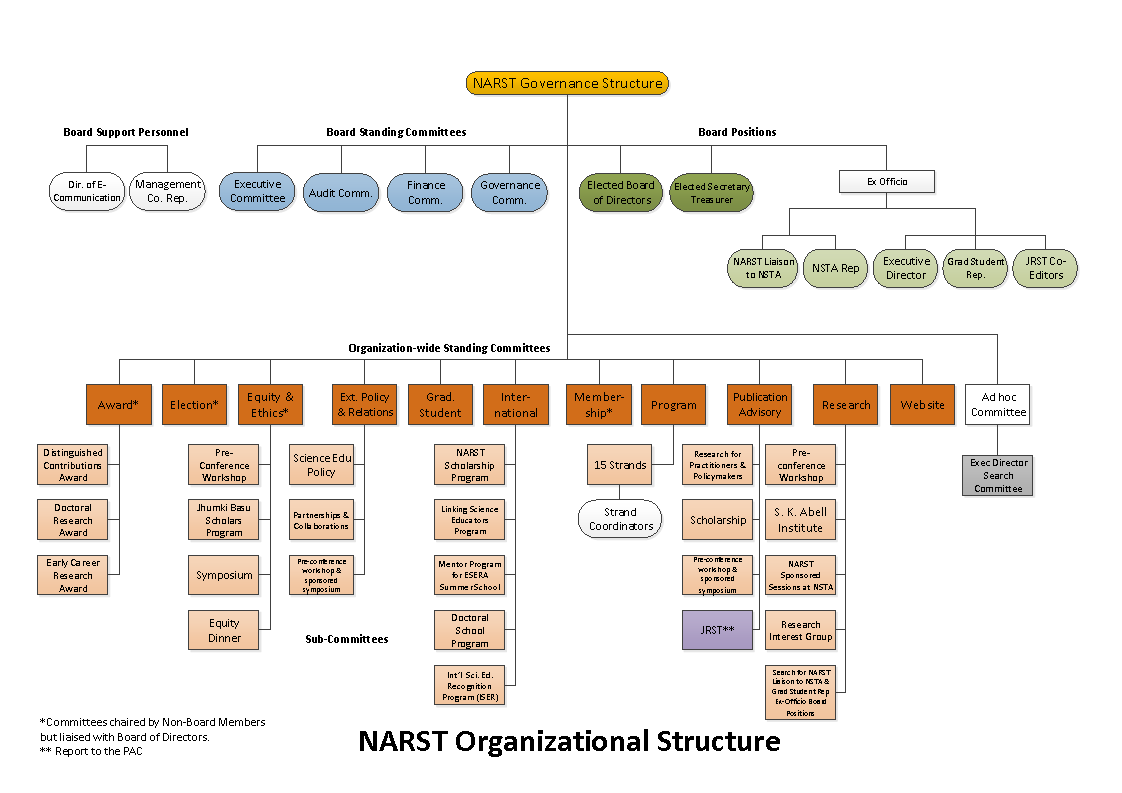 Sustainable Development
NARST should take the lead to improve the world and cultivate global citizens who are scientifically literate. As an international organization, NARST should aim to become a global think tank, leading science educators and policy makers in the development of policies and the generation of visions for improving lives and living standards of Mankind. I look forward to seeing more educators and researchers from our community volunteering to help NARST grow further and fulfill its destiny.
Concluding Remarks
As stated in my presidential speech at the Awards Luncheon, I had the privilege to work for NARST as the President. Two years ago, I committed myself to serve the organization for three years and devoted my energy, experiences, and knowledge to the betterment of the organization. Here, I would like to encourage our membership to take the same leap I did two years ago, to challenge oneself and take a different road, just like Robert Frost's famous poem titled The Road Not Taken — "…The roads diverged in a wood, and I— I took the one less traveled by, And that has made all the difference."
I would also like to share Marie Curie's words to encourage our members to get more deeply and sustainably involved in science education research and practice to make our world a better place:
You cannot hope to build a better world without improving the individuals. To that end, each of us must work for our own improvement and, at the same time, share a general responsibility for all humanity, our particular duty being to aid those to whom we think can be most useful. I was taught that the way of progress was neither swift nor easy.
Finally, I would like to conclude my report with a modified version of John F. Kennedy's famous quote:
Ask not what NARST can do for you,
Ask what you can do for NARST.