In memorium: Peter Fensham
In memorium: Peter Fensham
Dear NARST community,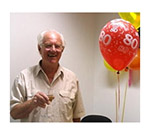 We are saddened to share that Emeritus Professor Peter Fensham passed away recently. Peter was founding Professor of Science Education at Monash University, the first such appointment in Australia. He was also the founder of the Australasian Science Education Research Association (ASERA) in 1971 and first national President of ASTA and of AAEE. He served as an Adviser of the TIMSS project in the 1990s and of the OECD's PISA (Science) project in the 2000s. He has published nine books and many research articles. His international contacts have included Visiting professorships in England, Sweden, Canada, Japan and Brazil. (Monash University website). 
An article about Peter was written by Dick Gunstone for a Special Issue of Cultural Studies of Science Education. It does a wonderful job of sharing wonderful memories of Peter and the work that he did. He will be sorely missed.
Special issue article: Peter Fensham-head, heart and hands (on) in the service of science education and social equity and justice
View a tribute to Peter from Monash University.