NARST Graduate Students attend 2022 ESERA Summer Course
NARST Graduate Students attend 2022 ESERA Summer Course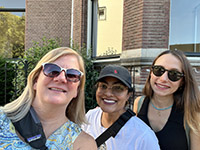 Two NARST graduate students were selected to participate in the 2022 ESERA doctoral summer school in Utrecht, NL. The summer school is a week-long event with 49 doctoral students and 14 mentors. The NARST International Committee solicits and reviews applications. NARST provides up to $2,500 USD for each of two students for travel and expenses.
The 2022 NARST graduate student scholars were Gozde Tosun [Penn State University] and Nadia Qureshi [University of Toronto].
Congratulations, Gozde and Nadia!
Click on the images below to listen to their testimonials about their summer school experience.
Nadia Qureshi

 

Gozde Tosun